Explore the Brand Style Guide
Vanderbilt's Identity
Our identity is the foundation for everything we say, do, and build. Our identity is composed of five key elements, each building on and supporting the others: story, purpose, beliefs, tone and ethos.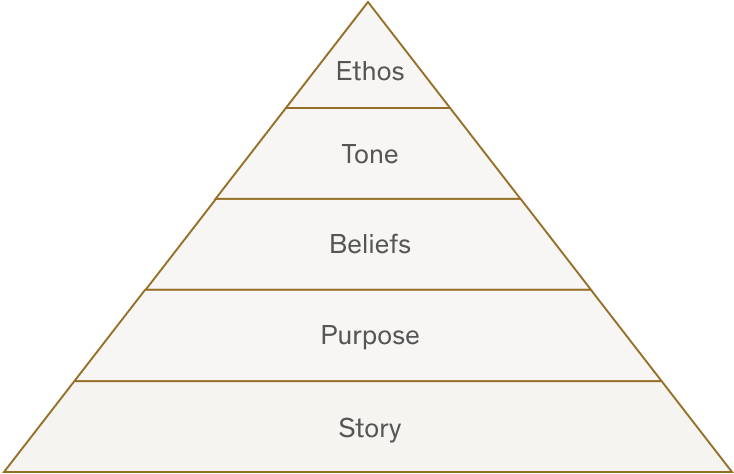 Ethos—our North Star

Tone—our attitude when we communicate

Beliefs—the core tenets that drive us

Purpose—why we exist

Story—the narrative that explains who we are
Vanderbilt University was founded in 1873, shortly after the end of the Civil War and the abolishment of slavery.

Cornelius Vanderbilt, the northern industrialist, and his southern wife, Frank Armstrong Vanderbilt, donated the largest charitable gift in American history at the time to support the vision of a Methodist bishop: to strengthen the ties between a divided country.

At the time, there were no great universities in the South, so Vanderbilt was modeled after Ivy League schools in the North.

But over the next 150 years, Vanderbilt grew from a regional university into a globally recognized institution.

And as it evolved, it developed a culture all its own.

The campus became home to ten distinct schools, intentionally designed to promote connection and interaction between students, faculty, and staff, alumni, and Nashville—a city that's as much a part of Vanderbilt as Vanderbilt is of it.

Blending grit, tenacity and community spirit with the relentless pursuit of human potential, Vanderbilt University has become one of the most admired and selective universities in the world.

Our rise to the top in academics and athletics, from bioengineering to baseball, is due to one simple truth. At Vanderbilt, talented people find their own paths and team up to break new ground.

This collaboration mindset infuses every aspect of university life—our campus, classrooms, playing fields, stages, studios, and labs—cutting across disciplinary boundaries with a unified sense of purpose.

We are a community dedicated to the lifelong realization of our potential, and we carry this philosophy into the wider world.

Because we know that when we put in the work together, we'll never stop growing and achieving.

It's what we call "radical collaboration."

And it's what drives us Forward Ever.

Beliefs
1. Belonging

Once you're chosen, you belong.
Vanderbilt is extremely selective intentionally. Only people with the highest potential will make the cut. Once you're here, you will be surrounded by the best and brightest, brought together for one simple purpose: to make each other better.

Behaviors:
Confident, never cutthroat.
When you join, you commit.
Respect the Vanderbilt Way.
Create and cultivate conditions for success.
Celebrate differences.
Foster unity.

2. Self Direction

Choose your own path, and go all in.
We believe personal purpose can only be found through relentless exploration and challenge. If it's too comfortable, you're not doing it right. Experience as much as you can. And once you discover your path, give it everything you have.

Behaviors:
Try, fail, learn, repeat.
Embrace discomfort.
Ready to change your mind.
Put in the work.
No shortcuts.
Prove the doubters wrong.

3. Collaboration

Teams challenge and support each other.
Our goal as a community is to work as one. We believe that by challenging and supporting one another, high-functioning teams are able to accomplish far more than individuals. And only by rallying around a common purpose can we truly multiply our individual potential.

Behaviors:
Bands do more than soloists.
Ditch the ego.
See no boundaries.
Pioneer together.
Challenge directly.
Respect the person.
Redefine "possible."

4. Growth

We never stop growing and achieving.
A permanent growth mindset is more important than any single achievement, however big. Vanderbilt believes that human potential is realized over a lifetime, in increments and leaps, and it expands as you grow.

Behaviors:
Growing the whole person.
Obsessive self-improvement.
In competition with yourself.
Be the ladder for others.
Lifelong levelling up.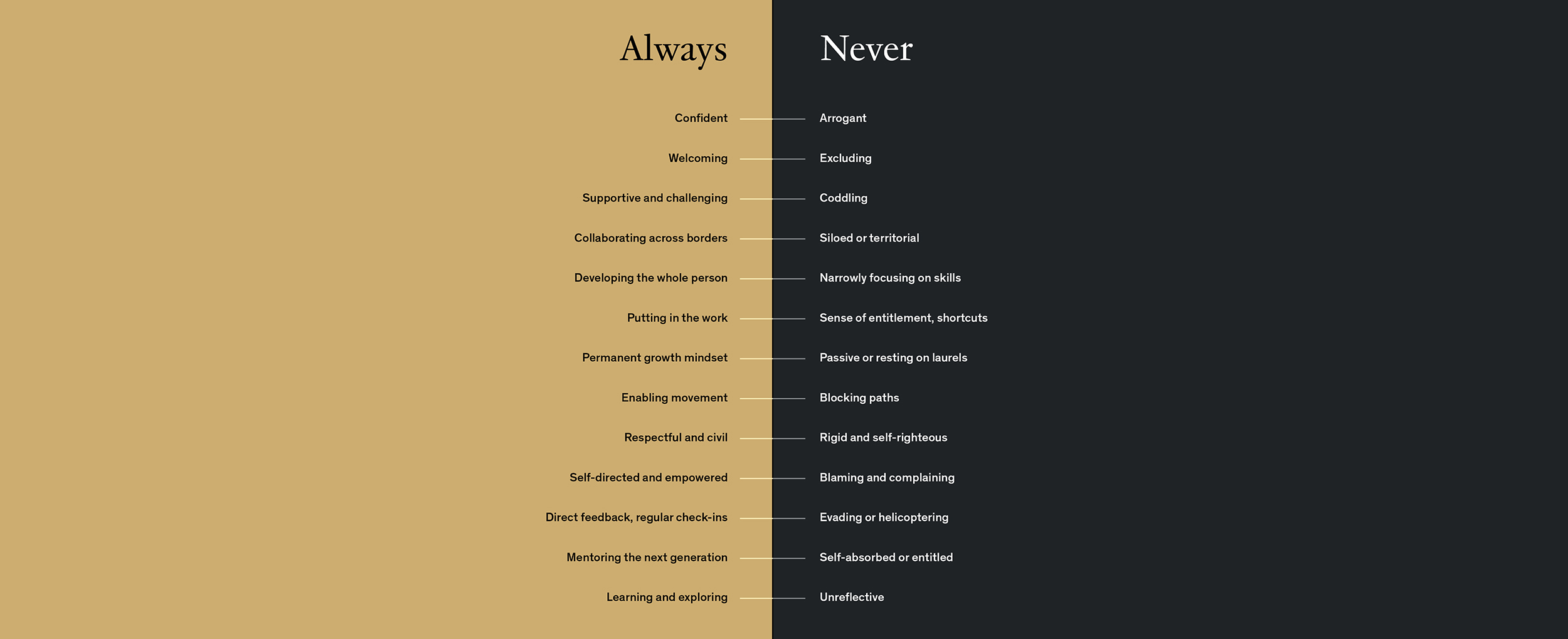 Always confident. Never arrogant.
Always welcoming. Never excluding.
Always supportive and challenging. Never coddling.
Always collaborating across borders. Never siloed or territorial.
Always developing the whole person. Never narrowly focusing on skills.
Always putting in the work. Never having a sense of entitlement, or taking shortcuts.
Always having a permanent growth mindset. Never passive or resting on laurels.
Always enabling movement. Never blocking paths.
Always respectful and civil. Never rigid and self-righteous.
Always self-directed and empowered. Never blaming or complaining.
Always engaging in direct feedback and regular check-ins. Never evading or helicoptering.
Always mentoring the next generation. Never self-absorbed or entitled.
Always learning and exploring. Never unreflective.
Ethos
Radical Collaboration
The phrase "Radical Collaboration" is the simplest expression of our core identity. It's not intended to be a tagline. Instead, it serves as an internal North Star to guide all of Vanderbilt's actions and communication efforts.
Our ethos is a shorthand for our core beliefs: belonging, self-direction, collaboration, and growth. We express it externally through the stories we share, the experiences we create, and the impact we have.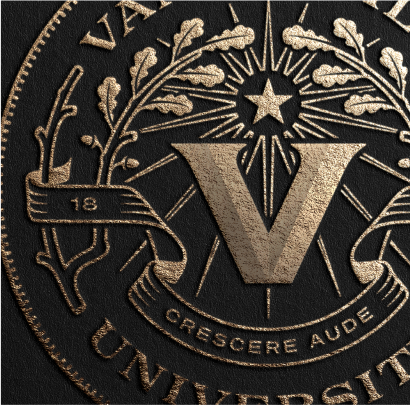 Our Motto: "Crescere Aude"
Crescere aude (Pronounced, kreh-sheh-ray ow-day) is Latin for "dare to grow," embodying the sentiment expressed in a section of Vanderbilt's alma mater, "Forward ever be thy watchword …"
Our Audiences
Prospective and current undergraduates and their families

Undergraduate students form the core of the Vanderbilt experience. For them, this university is not simply a place to get an education or specific training in a set of skills. It becomes a foundational experience that forever shapes their lives in ways large and small.

Graduate and professional students

Students in advanced degree programs focus intently on a specific discipline and go all in. They team up with world-class faculty across campus and challenge and support each other as peers, mentors and mentees, growing their whole selves through collaboration and community achievement.

Faculty

Through teaching and discovery, Vanderbilt's faculty form the backbone of the university's hard-earned reputation of excellence. In addition to teaching and mentoring students, faculty members are leaders in their fields—often pursuing groundbreaking research, creative expression, entrepreneurial projects and acts of meaningful community service.

Staff

Those who work at Vanderbilt live our culture of growth and collaboration across multiple boundaries every day, year in and year out. From managing university operations, to supporting students as residential advisers, Vanderbilt staff members cultivate the conditions for everyone to succeed within our community. 

Alumni

Our alumni embody the Vanderbilt ethos across global industries and endeavors. Their achievements and success reflect the quality, and evolution, of Vanderbilt over many generations. And they give back to our community through time, effort and resources to light new paths for future alumni to follow.

General

From funding agencies to neighbors in Nashville, the world looks to us for answers to global challenges and advances in human development. By increasing the permeability between the campus and our local, regional, national and global communities, we will strengthen understanding of The Vanderbilt Way and improve our innovation ecosystem.
Editorial Style Guide
The Vanderbilt editorial style guide is a resource specifically for Vanderbilt communicators that addresses issues of style and grammar that are likely to be encountered while producing communications for the university, as well as preferred ways for referring to our programs, places and people.
The guidelines are based, in part, on The Associated Press Stylebook; however, the guide expands on its sources to create a reference specific to Vanderbilt. Please use this editorial style guide as the primary resource for questions of style in Vanderbilt communications. Above all, always aim for consistency, clarity and accuracy.